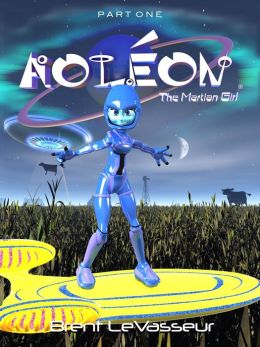 Crop circles magically appear in Farmer Johnson's field. A mysterious light sweeps over the night sky and awakens Farmer Johnson and Gilbert, the boy next door.
Curious, Gilbert ventures out to discover the source of the light and stumbles into a beautiful Martian girl sitting in a crop circle. Farmer Johnson also investigates the strange light, and thinking that Gilbert and Aoléon are vandals, he chases them. But they sprint to Aoléon's saucer and escape only to be pursued by the U.S. Air Force.
Gilbert has never been attacked by swarms of giant killer robots. Never met strange aliens from other worlds. Never skyboarded across a megalopolis hidden deep inside an extinct volcano. Never trekked across a vast Martian desert. And never been eaten alive by a gigantic slor (well, almost never, unless you count Billy the fat bully at school).
And luckily, he has never ever confronted an evil ruler of Mars bent on conquering the Earth to steal its cows.
Never...until now!
This may be the adventure Gilbert always wished for.
If only he can survive.
Join Gilbert and Aoleon in this exciting middle-grade science fiction and fantasy adventure!
Aliens! Who wouldn't want to read books about aliens? I love to read unique books with interesting storyline and this didn't disappoint. I really enjoy reading it. The illustrations were amazing. I am a sucker for pictures book so I knew I would like this book. I stared at each pictures because they are pretty cool. I just love how they look, very clear, colorful, and vivid. It is my first time reading this kind of book and my first impression was that this was going to be a great book and I wasn't wrong.

The pace of the story is great. The storytelling is great. The pictures are also great. I don't really have much to complain about.



It was a fun and hilarious journey. If I have children I would read it to them. I recommend this to those who love to read sci-fi, humorous adventure, and illustrated books. You won't be disappointed.