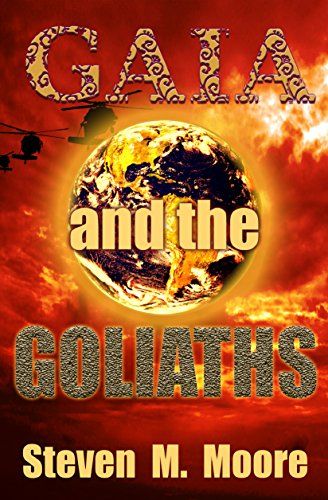 Excerpt from Steven M. Moore's Gaia and the Goliaths, #7 in the "Detectives Chen and Castilblanco Series", Carrick Publishing, 2017:
"You're too young to be a doctor," Gaia Papadakis said, her voice a raspy whisper. Sanchez had just removed the tube from her throat.
"You're awake. You've been through a lot." He took her pulse again the old-fashioned way. "A bit weak." His thick eyebrows arched. "How do you feel?"
"I feel like I was run over by a subway train."
"Something comparable on the street and right here in the ER. You're lucky to be alive. You were in good shape, though, and that helped."
"I work out when I can. Gym and jogging. Do you work out?"
"When I can. Don't talk too much." He showed her the call button. "If you have a problem, use that. Someone will come running. Don't be timid with the morphine pump either. Control your pain." He waved toward the door. "I have some other patients to see. It was a busy night in the ER apparently."
"What happened?"
"Other than your being shot, I don't know. About that: when you're up to it, NYPD will want to interview you. Don't worry about it, though. They have to go through me first."
Nice smile, she thought. God, he's young and handsome. Where's he been all my life? He had beautiful curly locks like her Zorba. She wanted Alessandro by her side holding her hand now that the doctor had reminded her of him.
"Did you participate in my surgery?" He nodded. "Say, can you hand me my purse? I'd like to check my smart phone." He handed her the purse, watched her rummage around, but turned to the PA system's speaker over the door when his name was called.
"I have to go." She nodded, flashing a tired smile.
She watched him leave, deciding it might be worth being shot in order to meet him. Sorry, Alessandro, you're thousands of miles away.
Hours later in midafternoon, she woke from a deep sleep feeling panic. She knew something was wrong. She took her last gasp as she fought her descent into sweet oblivion.