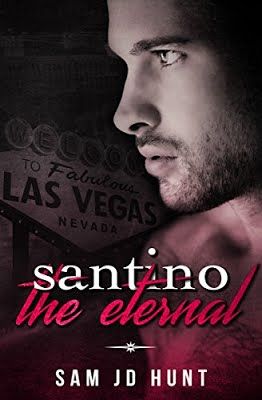 Date Published:
3/28/2017
Santino the Eternal has never craved the forbidden - until now. As a blood-thirsty serial killer hunts the glitzy streets of Las Vegas, Santino collides with a young college student - can she make it out alive?
Clara Denton's life is flung into chaos when she discovers a drained corpse in a posh hotel room on the Strip. And as if her life wasn't already spiraling out of control, her reclusive boss has taken a disconcerting interest in her. Unable to resist the dark pull, she is drawn further and further into the murky world of the undead - as well as just the dead, too. When the handsome Matthew Hunter arrives with his sights set on Clara, she is thrown into one final eternal struggle of good versus evil.
Can love truly be eternal?
"Be free, my darling," he said to the languid corpse.
With the back of his hand, he wiped away the last drops of the precious nectar he'd drained from her fragile veins. "You have served me well." He watched as the ghost of his young victim fled her empty body.
He felt crushing remorse that he'd killed her. Her death was kind, painless, and he needed her blood, he convinced himself as he glanced around the darkened hotel room. The warm fluid rushing through him caused the sensation of a post-orgasmic high—so similar was the feeling that he craved the cigarette he usually only smoked after sex.
"No, not here," he said aloud to himself, his agile fingers placing the pack of cigarettes back into his designer suit coat.
The door to the hotel room opened—a swath of light from the hallway burned into his eyes and his hand instinctively reached up to shield himself from it.
A young housekeeper burst in, her eyes only glimpsing his form for seconds as he moved from the room with such preternatural swiftness that he was just a mere blur to her mortal eyes.
It was several more minutes before his perfected ears heard her scream in terror.
*****


Santino paced on the priceless rug that graced the polished marble floors of his penthouse suite high atop the Roman. His trusted head of security, Donovan Salerno, sat on the cognac leather wingback chair and glanced over the notes in his small notebook. The afternoon had been stressful, but Don thought he'd done well.
"And the maid? She won't talk? Let's make her happy," Santino said as he rubbed his stubbly chin.
"Well, sir, we fired her, it was necessary that—"
"What the fuck did you just say? You fired her?"
Donovan took a deep breath and willed himself to stay calm. The boss was mad—deadly mad. He stood up and explained. "She demanded we call the police. That one, she was too smart. That young chick wasn't like the Mexican maids that most—"
"I swear to God that if you say one ignorant bigoted thing you will regret it for the rest of your short life." Santino had no tolerance for small-mindedness.
"Um, no, it's just this housekeeper was not going to be deterred from alerting Metro to the mess in your house, sir."
"So now she's out there, with no loyalty whatsoever to us, no incentive to stay silent. That is a problem, Don."
"Yes, sir. We'll take care of her. I apologize for letting her go."
"I don't want her harmed, I merely want her silent. What is her name?"
Santino's pale eyes focused on the man as he stopped his pacing. The words his head of security spoke caused him to grow cold, colder than his usual soulless body.
"Clara Denton."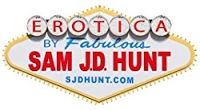 Sam JD Hunt resides in Las Vegas with her husband, the inspiration for the young Thomas Hunt character, as well as her two children. Her debut trilogy, The Thomas Hunt Series, put a fun and unique spin on the popular BDSM genre. She followed up with the highly successful DEEP: A Captive Tale--a dark BDSM erotic captor/captive story about a pirate and his lady that spans time and space. Her fourth novel, the full-length standalone The Hunt for Eros is an erotic art adventure that combines spicy romance with a cultural adventure based on true life events. It has been described as being like The Da Vinci Code, but with lots of heat added.
Hunt's next release was co-written with her husband. Dagger: American Fighter Pilot is a steamy contemporary romance, which follows a squadron of fighter pilots as part of the American Fighter Pilot read-in-any-order series. Following the release of Dagger, Hunt released the much-anticipated MMF/Bi/Ménage erotic adventure, Taken by Two and then its sequel, Torn from Two. Next, Hunt plans to release DEEPER: Capture of the Virgin Bride as a follow-up to DEEP. When not writing, Hunt enjoys travel, community involvement, spending time with friends and family, and hiking. She spends her days writing and trying to answer the age-old question: is it too late for coffee or too early for wine?